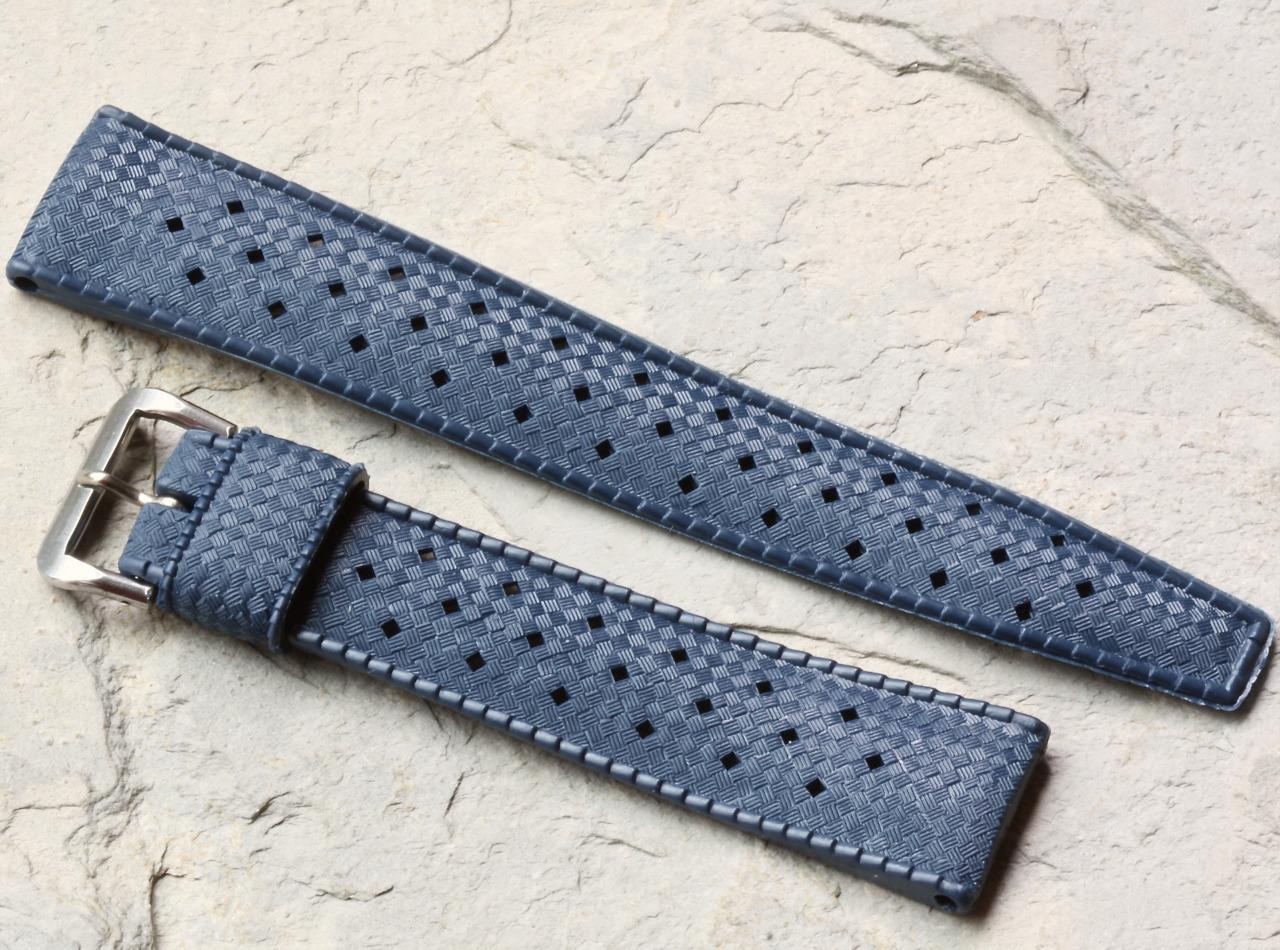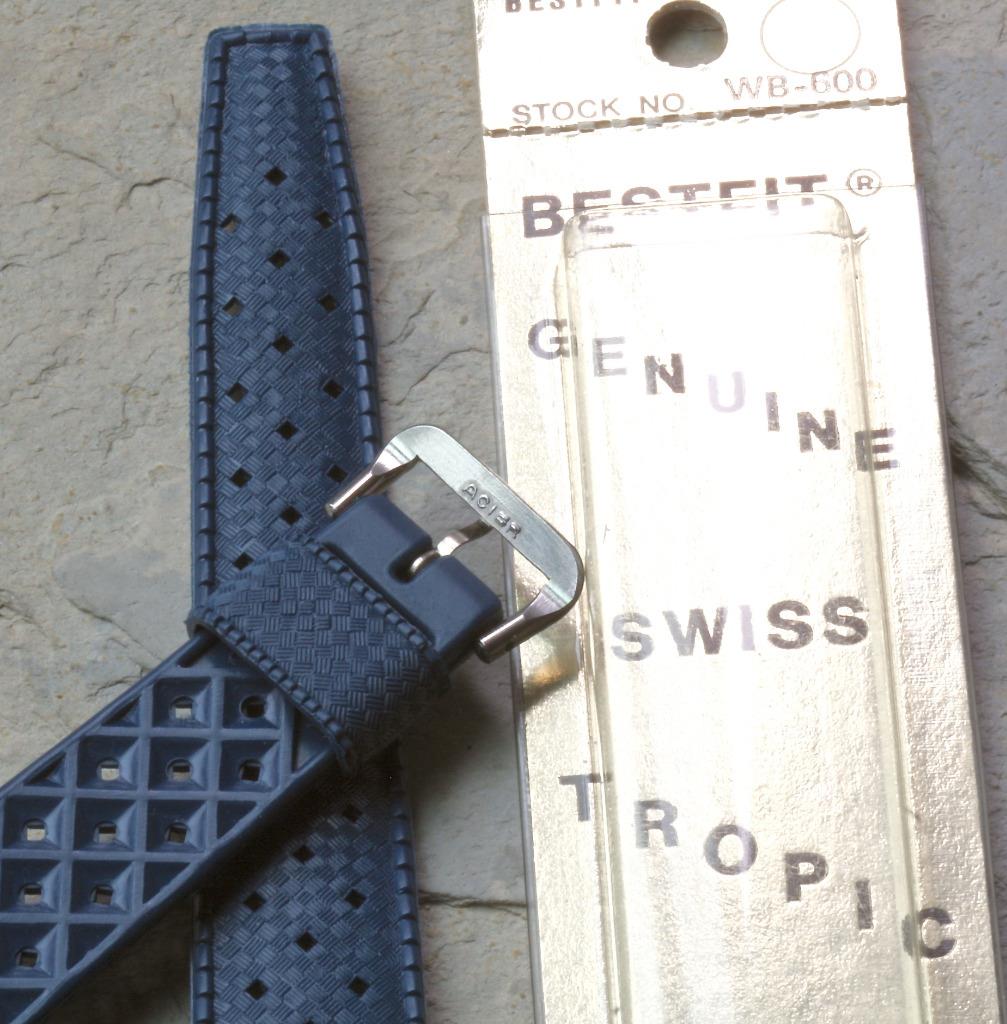 Super rare color, size and style 20mm fully perforated Swiss Tropic dive band in that unique 1960s/70s shade of blue. Still in its original Bestfit Tropic package - an New Old Stock item from the 1960s/70s. Perfect change of pace for your Heuer chronograph and excellent to accentuate the blue bezel on your Rolex GMT or similar watch.
Made in Switzerland by Bestfit Tropic, the original company to produce this type of band and supply dive bands to Breitling Heuer International Watch Co. and Rolex watch distributors. Generous length strap measures 8 inches (20.3cm) placed end to end, not including the buckle. Metric measurements of the 2 individual pieces are 120/83mm. Single sliding keeper. Strap is 5.4mm thick at the watch end; 3.2mm thick in the body; and 2.8mm thick at the tail end. Buckle end is 16mm if you have a signed buckle for this band. Message me if you want to purchase a Heuer buckle for it.
Large spring bar holes. Signed Tropic Swiss Made Mod. Dep. bearing stock number 22522. Quality and thickness of the rubber is great, and the band is very soft and pliable.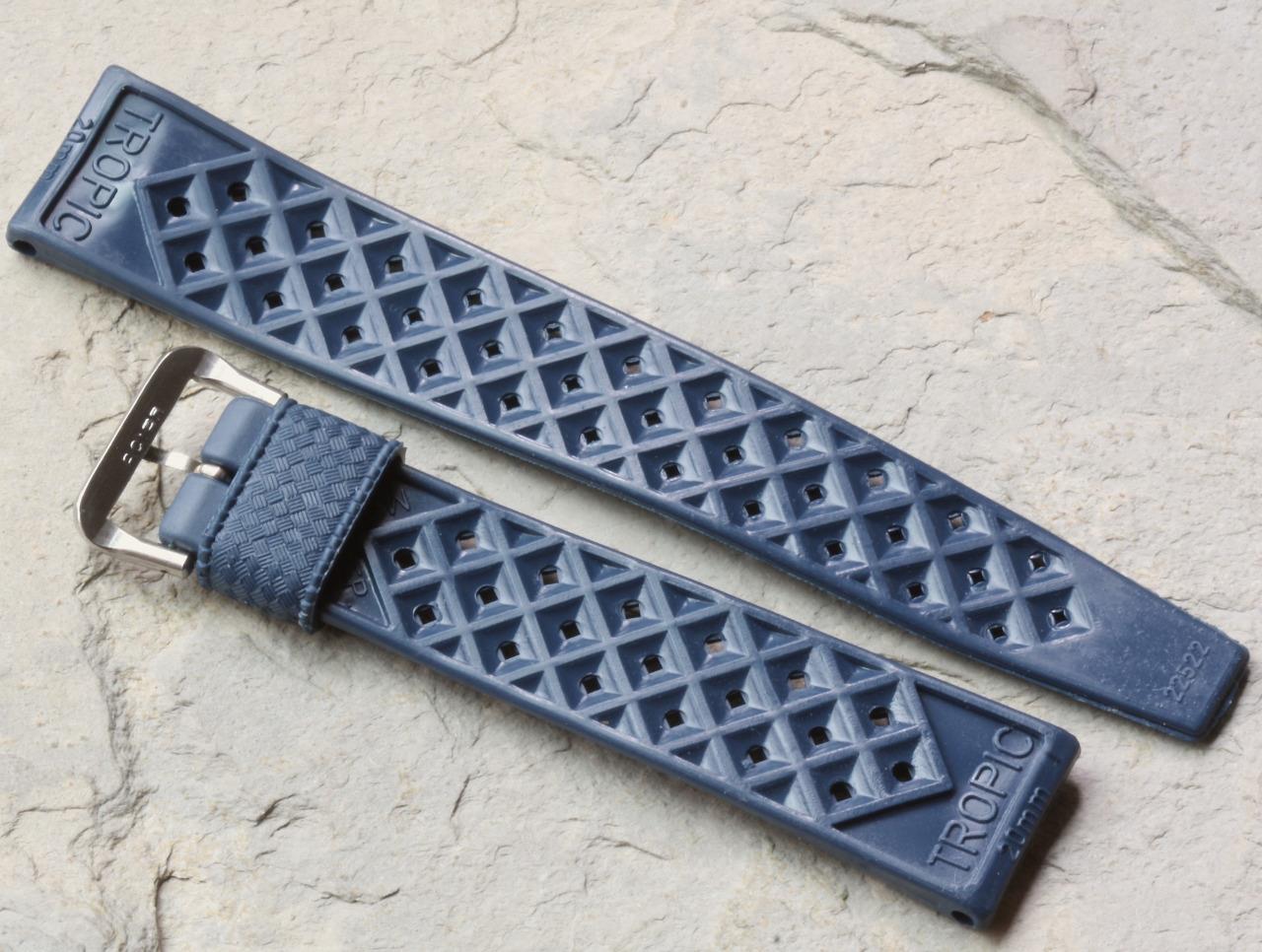 Price is $275.
SHIPPING: U.S. buyers pay $5.99 First Class shipping with tracking and international buyers pay $34.99 for Registered shipping or $59.99 for fastest EMS shipping with tracking (delivery to most countries in 4-6 days).
PAYMENT: Paypal to billmahoney@aol.com or mail payments by check or money order accepted.
I also have the same band in black, white and grey in stock. I also have many other Swiss Tropic bands in stock in 18mm, 19mm, 20mm and 22mm at Squinky.com in the Tropic Rubber Strap and Heuer sections.
Email me at billmahoney@aol.com if you need additional information.
Regards - Bill Mahoney
Squinky.com