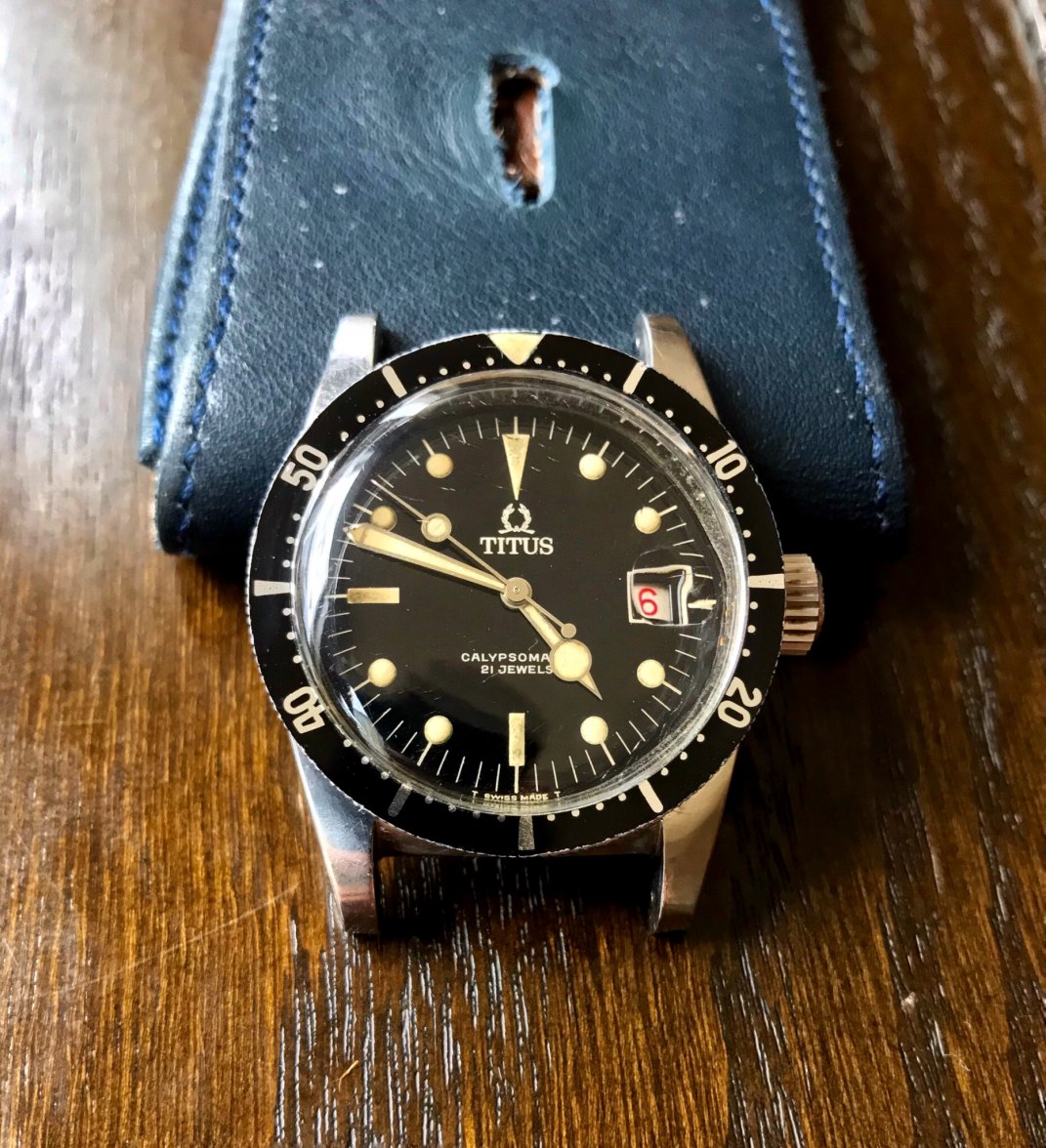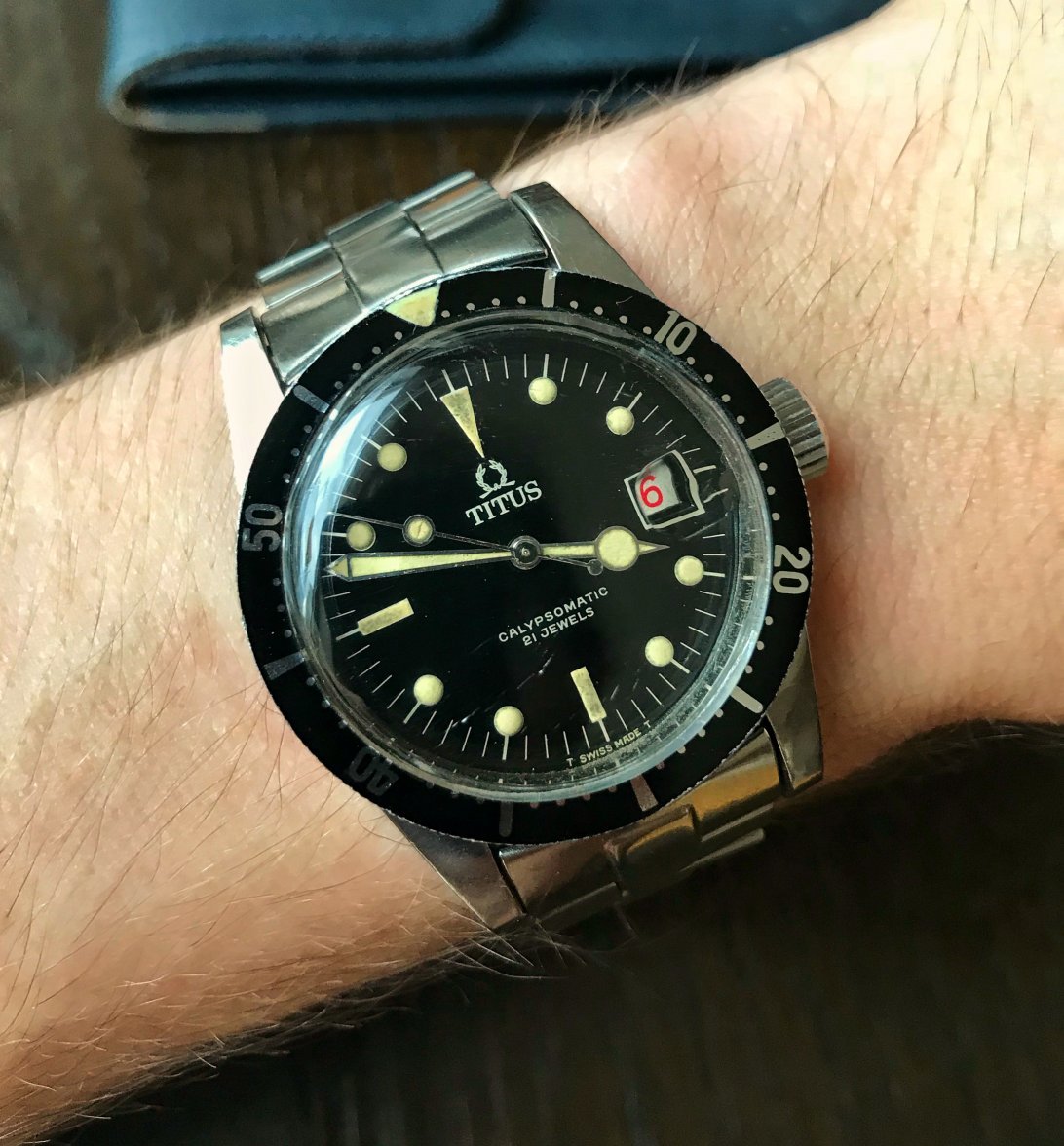 This is the last generation of the large size (37.3-38 mm depending on what you cite) glossy/gilt dial Titus Calypsomatic's, the 7985. It's colloquially referred to as the 'big crown' version given the similarity in case and crown dimension to the Rolex big crown Submariner. See references pictures and details about it here, as written by the guru of Calypsomatics. [As an aside, this is a great reference website for these watches and you should bookmark it if you're interested in them.]
Why am I selling?
I have/have had a few incomings and have a personal limit of 7 watches I've set for myself, so some have to go.
Provenance
Bought from a fellow collector last year, before then I am not sure.
Condition
General Notes: The watch is overall in excellent but used condition. Apart from David Kim's mint example I think this is one of the best out there. All the parts are period correct for this watch including the roulette date wheel, which is alternating red/blue, lumed triangle at 12, the crazing crystal, and bracelet (see below). I'll let the pictures speak for the condition and note that any marks seen in the pictures are from the crystal being crazed - the gloss on the dial is fully reflective and in great shape. I've included a shot of the watch under a lamp so you can see the character/condition of the gloss on the dial. All the lume glows the same to UV and fades quickly.
The watch is running and it winds, sets, and functions without any issue. The date is non-quickset but can be changed using the old 'turn-it-back-to-nine' trick. The bezel is very sticky to turn - it does with some effort - but because I haven't had it serviced I didn't want to scratch the sides (which are screen printed black on this bezel) by trying to take it off myself. The watch seems accurate for regularly daily wear in my rotating collection but I don't have a watch timer so can't vouch for the +/-. Service is recommended if you want it to run within spec but otherwise has been okay.
Accessories:
Period correct Titus signed bracelet is included, see pictures below. I can't say it's original since I don't know the history but would make sense that it is. The bracelet fits up to a ~7 inch wrist and is really comfortable and not arm hair pinching.
Price is $8500 net to me, by bank wire (plus cost of insured delivery).
Terms and Payments:
Payment is by bank wire to my bank in the United States. I will consider other means of payment on a case-by-case basis. Watch will be shipped and insured for the price above via Parcel Pro. It will be declared for the price above if shipping abroad. Watch is currently in Chicago, IL, USA. Face to face is always preferred.
An exchange of ID Documents and a talk on the phone if I don't know you will ensure both of us are happy with who we are. No returns for buyers remorse, only if the watch is not as described and then only within 3 days of purchase from date of delivery.
Thanks for looking, enjoy the rest of the pictures.
-- Andrew