: I have been in this guys store a few times. The store is very nice
: and a lot of fun. His stuff seems to be priced fairly but at the
: high end of retail. He had very little in the way of Heuer the
: last time I was in there which was probably 5 years ago. At that
: time Omega was the hot thing for him.
: Here is a picture my wife took of my son, who is now 30, while they
: were waiting outside the store for me. They are always waiting
: for me to buy a watch.
: JohnCote
:
: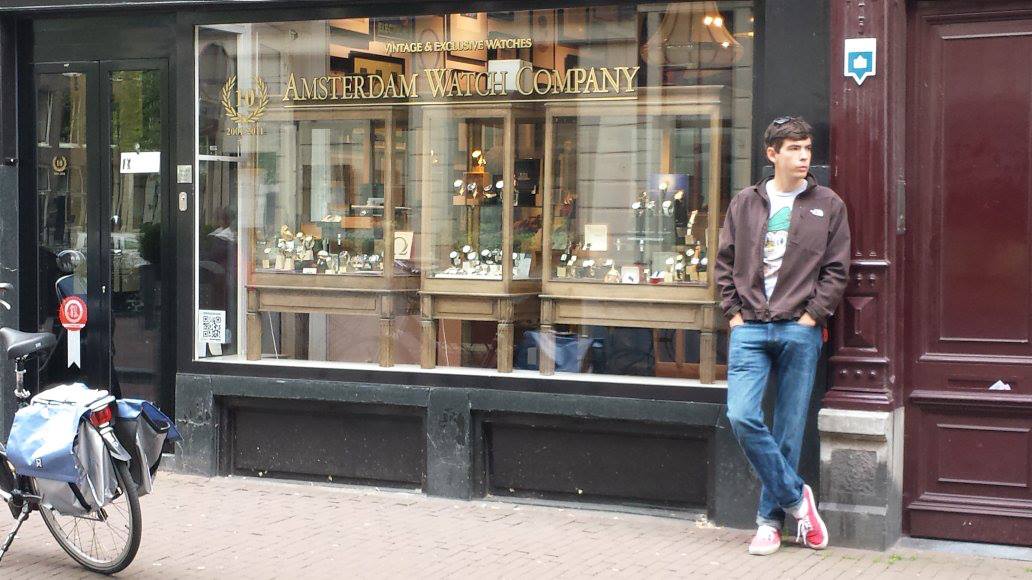 The video is from Amsterdam Vintage Watches (AVW), their shop is on the Singel canal in Amsterdam. Amsterdam Watch Co. (AWCO) is a different vintage watch shop. Both really nice vintage watch shops to check out, go for a coffee, have a chat, when in Amsterdam. A bit of a generalisation but AWCO has always been more focused on vintage Omega and recently AVW has been focusing more on vintage Rolex. Jasper from the video, recently, took over the shop from his father Paul, from whom I bought my first vintage watch 26 years ago, not a Heuer....!I have been a loyal client with them for years. The only regret I have..... is that i did not buy more vintage watches from them;-). I saw and handled the Heuers from the video, very, very nice.