For sale is a pre-owned near mint condition stainless steel and 18 karat yellow gold 40mm Rolex Submariner. The Y serial (circa 2002) 16613 includes box, but no paperwork. The Submariner, affectionately dubbed the "Bluesy", features a blue dial with applied yellow gold surround Superluminova indices, date aperture at 3 o'clock, and a unidirectional graduated bezel. The watch is in remarkable condition with the case side plastic and case back sticker still intact almost two decades later! The watch is mounted on a stainless steel and 18 karat yellow gold Oyster bracelet with little stretch, remaining in approximately 90% plus condition. The watch has 11 full links and is currently sized to accommodate a 7-inch wrist but can easily be sized larger. The Bluesy is powered by a Rolex caliber 3135 with a 48-hour power reserve.
Shall deliver with 15 month in house warranty on the movement for $11,975 plus applicable state sales tax where required.
Many of our best fresh arrivals sell before ever being listed. Contact us directly about upcoming pieces!
All timepieces come with a 7 day 'no questions asked' return period- will issue 100% refund as long as the timepiece is returned in the same condition in which it was shipped out.
[URL=https://app.photobucket.com/u/ErikSzper/a/205b9462-5680-4cc2-8d66-f3fc2082017b/p/1253abb9-3be5-4843-aba7-c80ef42630b9]
[/URL]
[URL=https://app.photobucket.com/u/ErikSzper/a/205b9462-5680-4cc2-8d66-f3fc2082017b/p/42752ff7-850b-4978-b804-a7adcbe6cc29]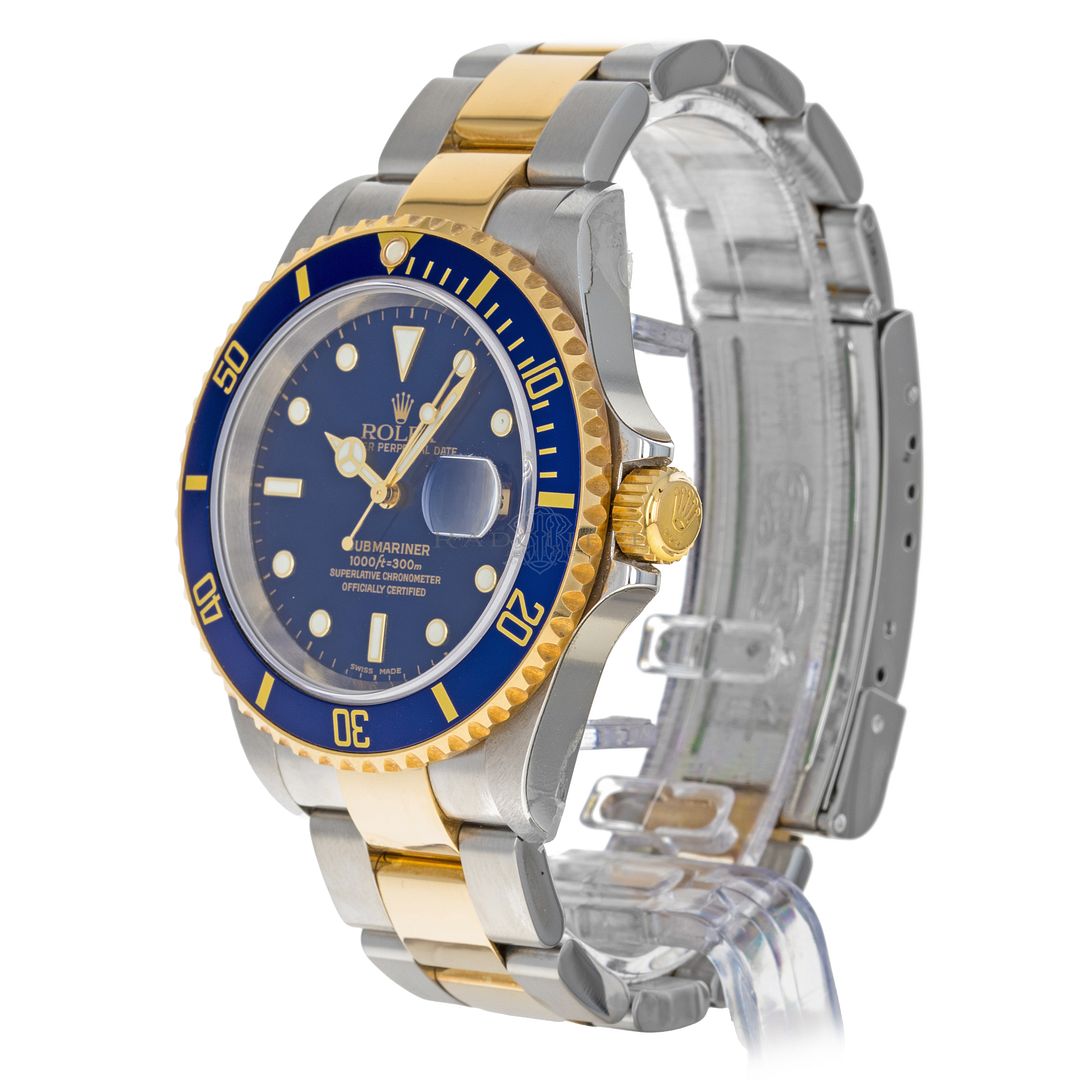 [/URL]
[URL=https://app.photobucket.com/u/ErikSzper/a/205b9462-5680-4cc2-8d66-f3fc2082017b/p/cffdb3ae-6663-4878-8246-7728b74b9b13]
[/URL]
[URL=https://app.photobucket.com/u/ErikSzper/a/205b9462-5680-4cc2-8d66-f3fc2082017b/p/27179793-a644-4310-8ba4-c16af3edc36c]
[/URL]
[URL=https://app.photobucket.com/u/ErikSzper/a/205b9462-5680-4cc2-8d66-f3fc2082017b/p/d88f4f38-b716-4212-b136-d8ebea6fd428]
[/URL]
[URL=https://app.photobucket.com/u/ErikSzper/a/205b9462-5680-4cc2-8d66-f3fc2082017b/p/08ba5686-640b-41b1-a07d-47adc358900d]
[/URL]
[URL=https://app.photobucket.com/u/ErikSzper/a/205b9462-5680-4cc2-8d66-f3fc2082017b/p/11827b47-99f3-4847-ba38-3dedb63f4ef5]
[/URL]
[URL=https://app.photobucket.com/u/ErikSzper/a/205b9462-5680-4cc2-8d66-f3fc2082017b/p/f15b421e-e69f-4ff5-907a-f1face9dd6cc]
[/URL]