Maintenance and Service
Maintenance and care tips, how to know when your watch needs service, and where to get your watch serviced
---
How often do I need to send my OMEGA in for routine service?
As a general rule:
Quartz models should be given a routine service every other time the battery is changed.
Regular mechanical models should need routine service only every 5 years or so.
OMEGA states that their Coaxial models should need routine service only every 10 years.
However, if you expect to rely on the water resistance of the watch -- especially for swimming and diving -- you may want to have the water resistence checked every year or so.
---
How do I care for the finish of the watch?
Each finish on the watch requires different treatment. Not only are there several different metals, but also many Seamaster models have multiple textures or more than one metal used on their exteriors. Your Seamaster may include brushed steel, polished steel, anodized aluminum, brushed yellow gold, polished yellow gold, white gold, or titanium.
You would be best off to take the watch to a competent jeweler for cleaning. If you really want to attempt to use 'do it yourself' techniques, make sure you know what you are dealing with and use only the safest, gentlest possible materials on the finish of your watch.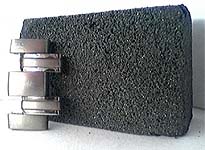 OMEGA Microlon sponge for touching up titanium finish watches [image: Andreas Schildknecht]
OMEGA has several cloths for touching up the finish on several types of metal. For yellow and white gold, they have a 'cloth for gold' (reference number 502.500.0013). For titanium, they have an abrasive cloth called 'microlon' (reference number 502.500.0031). They do not have anything similar for steel finishes, but generic steel jewelry polishing cloths are readily available.
---
Can't I polish scratches off the steel bracelet myself?
You can, but unless you know what you are doing, you may ruin the watch. The following photo was submitted by a reader who had used a highly abrasive polish on his Seamaster bracelet. At this point, he is trying to find someone who can salvage the bracelet for less than the cost of buying a new one.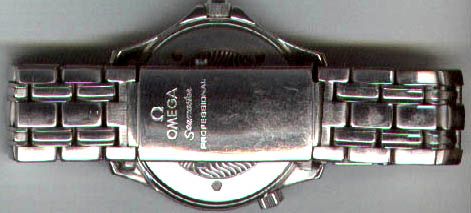 Bracelet ruined by home polishing [owner/photographer's name withheld by request]