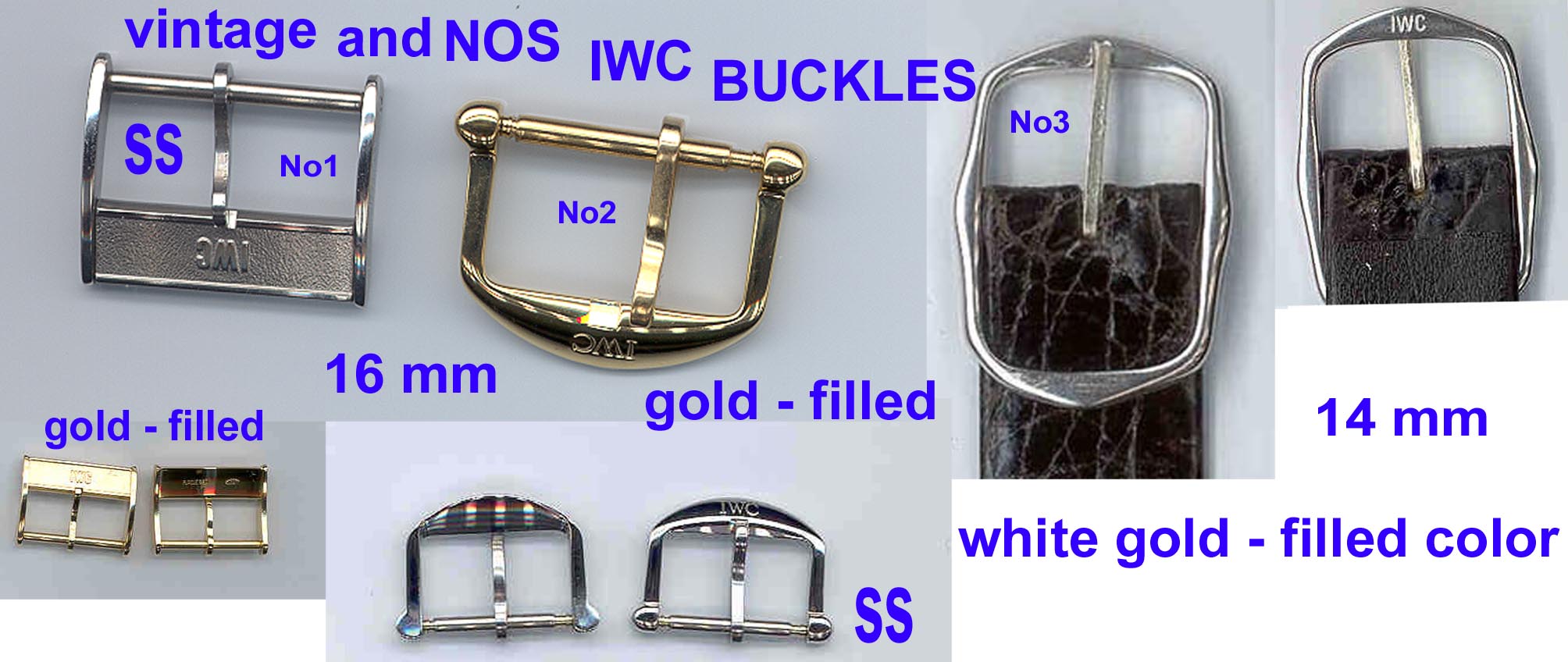 IWC BUCKLES in as new condition NOS, 100% original IWC, 100 % unused,
By jurgensGermany
No 1 : 16 mm , original Swiss made buckles
Available in ss ,y gold plated (stamped "PLAQUE G20M" "UNROC")
rose gold plated (stamped "PLAQUE G20M" "UNROC")
14 K solid gold (is stamped "585")
Steel 165.- US $
Y gold plated 175.- US $
Solid 14 K Rose gold 245.- US $ (=out of stock)
No 1 / 1 No pic but looks similar to No 1 only without the stamp
inside : Made from a German IWC supplier in the 60s , only available in
y gold or rose or rhodium plated / white gold color , NOT in ss !
Price is 99.- US $ for one .
No 2 : Are 16 mm, Portofino, we have this buckles in ss or in
original IWC manufacturer gold filled y gold or rose gold color
Price is 109.- US $ for one
No 3 : Are 14 mm. I have this buckles in white gold color or in y -
gold filled
Price is 90.- US $ for one
Mark XV , Avail in 16 and 18 mm buckle size
Price is about 139.- US $ each.
Some of them are very rare pieces and very hard to find in this condition.
Shipping cost will calculated by German post office.
Shipping to the states is for one buckle is 9.50 US $ by registered airmail
We offer a wide range of watch straps, bracelets, buckles , deployant clasps, watchmaker tools and Swiss Brand items around watches, please feel free and check them out at jurgens Germany.
All prices are export prices that's why Europeans must add 19 % VAT.
Payment: Paypal ( Is preferred please use our email address :
Info(ET)s-parts.de
By wire to our account by the bank of NY in NYC , wire to our account in germany , swift, bank cashiers check, int. money order, postal money or cash , in registered airmail letter please. Please ask for my feedback.
Thank you very much for your interest , I hope to hear from you soon. Best from Germany Jürgen