Darren:
Thank you for sharing this very special watch, and your impressions. Indeed, this is a special one . . . great heritage, great story, and -- most important -- great looking. I took a "pass" on one of these a long time ago, and have regretted that decision, ever since. Maybe some day . . .
Enjoy this one and thanks again,
Jeff
+++++++++++++++++++++
: As many of you who came to London last december for the Haslinger
: auction may remember i wore this particular watch on one wrist
: and it received a mixture of surprise reactions from the Heuer
: crowd. Its fair to say that upon first glace it was mistaken for
: a standard valjoux.230 Bundeswehr. Then upon closer insection
: people we shocked to see a date window down in the 6 o'clock
: position on the dial and then a crown present on the left hand
: side. Yes its Cal.12 powered !!!
: Its a prototype Caliber.12 automatic Heuer Bundeswehr watch which
: was submitted to the German military for assessment in the
: 1970's. As a prototype there is no model production or serial
: number between the lugs or even the charactoristic Bund
: engraving with military numbers on the caseback. The automatac
: Cal.12 movement has its charactoristic left side crown at the 9
: o'clock postion but the familiar Bund case must have been used
: as a guide when making this case (there is no evidence of a hole
: where the crown would have lived at the 3 o'clock position on
: the Valj.230 version)
:
:

: Its one of just a hand full ever made. The story, as far as i
: understand, is that the watch was not approved due to its
: production costs (keep in mind that the Cal.11 movement, in
: 1969, became the worlds first automatic chronograph & was a
: relatively expensive movement to produce). This watch carries
: the Cal.12 movement which is the next evolution of the Cal.11
: & although the volumes of production for the Cal.12 had
: increased it still made the overall cost of a complex automatic
: Bund watch too expensive a proposition.
: There are still further rumours that the automatic movements lack
: of fly-back chronograph ability also counted against it in terms
: of a practical timer but after speaking to Arno Haslinger in
: London last december he was able to confirm that it was in fact
: the financial production cost that sadly killed off this lovely
: watch's chances of being put into production. Such a shame as it
: is one of my absolute favourite watches of all time.
:
: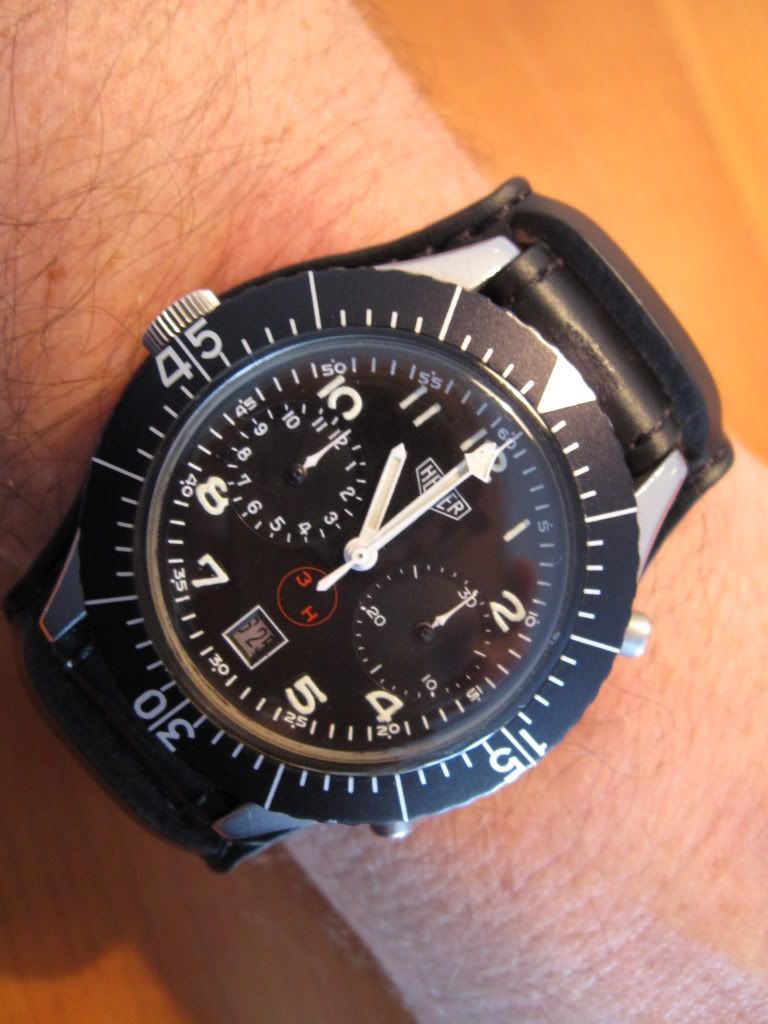 : Its large case and simple black and white presentation on the hands
: and dial make this watch very easy to read. The fact that the
: watch is so big also gives it a more modern feel than many of
: the watches of the 70's era.
: I would dearly love to hear from any other owners out there or if
: anyone has any further information for me on my own watch.
: Hope you all enjoy it - Darren