Chapter Four, in our "Pass the Trash" series . . . Yes, we have seen this one offered by (a) the original owner, (b) a professional watch seller, (c) Man of the World, and now (d) Auctionata.
Thursday, October 15, Lot 27 -- https://auctionata.com/o/159826/heuer-for-abercrombie-fitch-seafarer-ref-2443-c1960
Auction starts at $3,000, with the Auctionata Expert estimating the value at $6,500. Description notes "Good age-related condition with minor traces of wear, dial shows age-related patina". What could this possibly mean?
What could this "Auctionata Guarantee" possibly mean? "Every item available to bid for on Auctionata or on sale in our gallery has been thoroughly checked, valued and authenticated by our specialists and experts."
Jeff
+++++++++++++++++++++++++++++
: Browsing the catalog for Auctionata's October 21 vintage watch
: sale , we see two lovely Heuers . . .
: So tell me, are these folks: Lazy? Ignorant? Crooked? Sloppy?
: Desperate? All of the Above?
: Jeff
: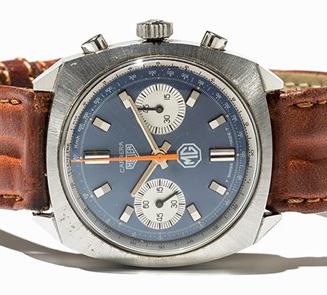 :