Stewart,
Firstly I want to express my appologies if you experienced my comment as "offensive" or "impolite". It was certainly not ment as such. I think most of us collectors here on this forum want to have constructive discussions and a positive attitude.
You're also quite right about "striving to understand the nuances rather than perpetuating sweeping generalisations".
So let's go on with this discussion in peace :-))
This watch is certainly not a "fake" one, that's quite obvious as the case, movement, crown, pushers, crystal, box, bracelet, papers are all looking great and 100% original Heuer(IMHO).
What worries me is obviously the dial in first place, and the hands in second place.
The hands:
I am not going to discuss on these hands as I do not have had expertise on these particular model of minute - hour and chronograph hands. I haven't seen them "in the metal" yet so I cannot decide about the quality or originality at all. Maybe others among us on this forum know more about them or have experience with these hands. As stated before, I wouldn't feel comfortable with these type of hands on my Monaco. Maybe they are 100% genuine and original Heuer but I certainly prefer the more known hands as in my picture.
The Dial:
Well, everything what I'm going to write now (and also what I have written above) is MY OPINION and I do not pretend in any way this would be correct or the only truth. It's only MY personal point of view on these dials. So, I admit I can be wrong. This having said, here follow some of my remarks or observations regarding this dial.
I'm only 4 or 5 years active as a Heuer collector. This is just peanuts in comparison with some other collectors around here and you also have much more years experience as me with these Heuers. But then again, like it is with everything in life, it's not only the "quantity" (years of experience) but certainly also the "quality" (higher standards and eye for detail) that's very important with these great timepieces. The pictures I always share on this forum confirm this unmistakably. I only collect the Autavia's and Monaco's starting from 1970. I have owned and own several Monaco's and I love to have my watches clean and crisp with respect to their "originality". There is a hughe difference between repairing a watch or restoring a watch.
My comments or remarks are not based on "an internet article" alone. Actually I have owned such a Monaco with this "type" of dial identical to yours, but mine was a 1133b. You'll find some detailed pics of it's dial further in this message. I also had a 100% NOS manual Monaco with an "original" dial and matching hands. Also some detailed pics visible. Also have a look at the hands of the little registers. If you compare the quality and finishing of both these dials you'll see some manifest differences. The Markers are placed not very carefully, you have the waffle-markers at 10-2-4 and 8 o'clock. And also the oblong-markers at 11-1-5 and 7 o'clock are different. The type and grade of finishing used for the the "Monaco" lettering and the "Heuer" shield have also less detail. A Non-Heuer collector wouldn't see this "quality difference" immediately but I hardly can imagine a Swiss watch company like Heuer would allow to produce or use these kind of dials on their Monaco's, even if these were "after-service-dials".
This is a picture of your 73633 Monaco: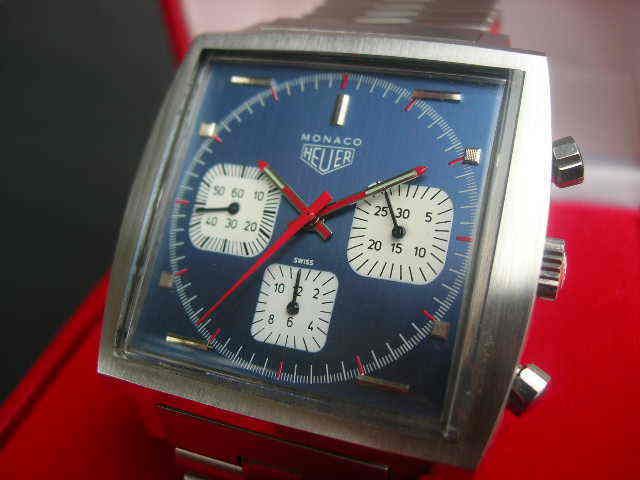 Here are some pics of my 1133b dial which has the same grade of finishing, hour-markers as your manual Monaco and which is also using the same kind of font for the Heuer-shield and Monaco lettering: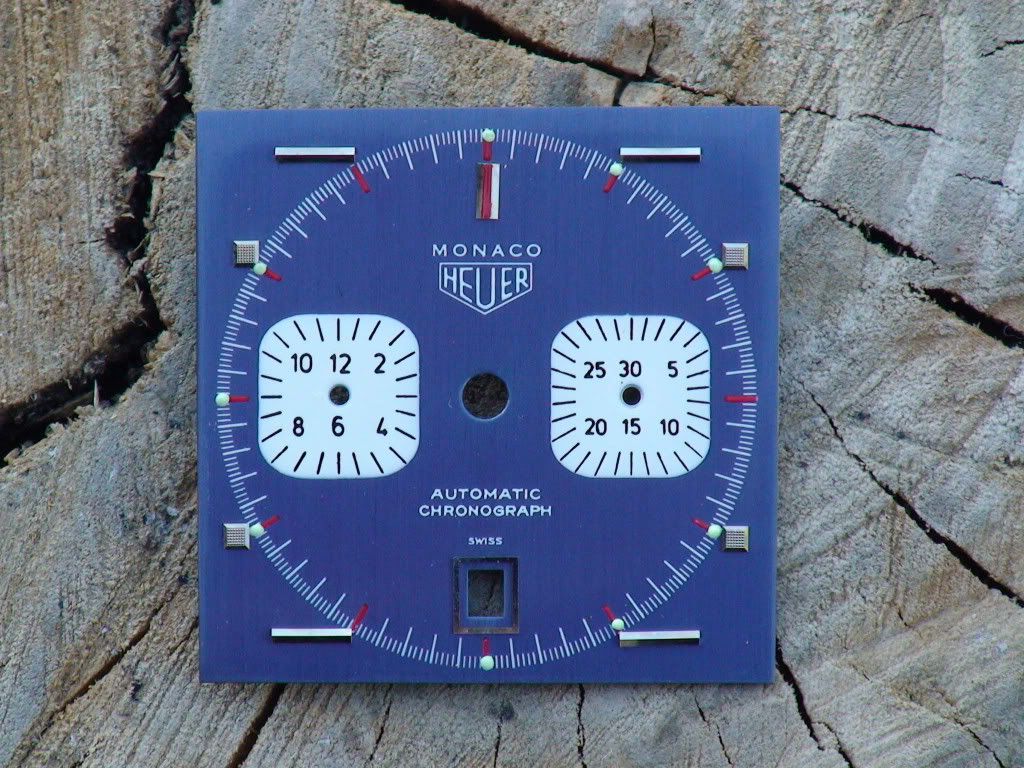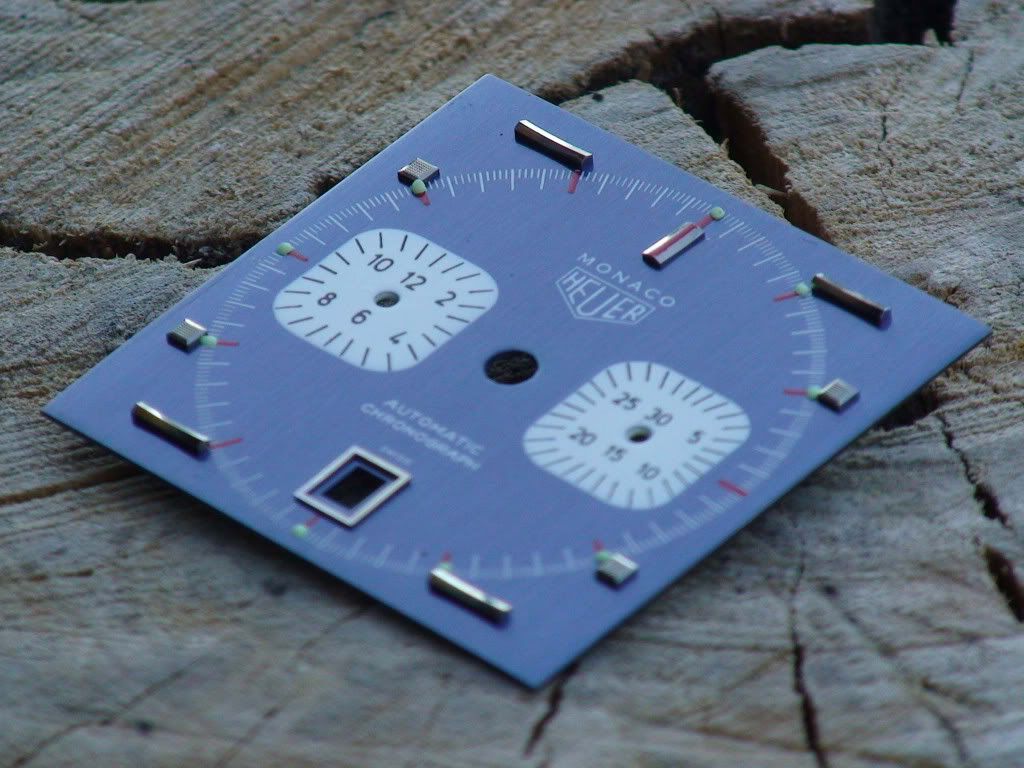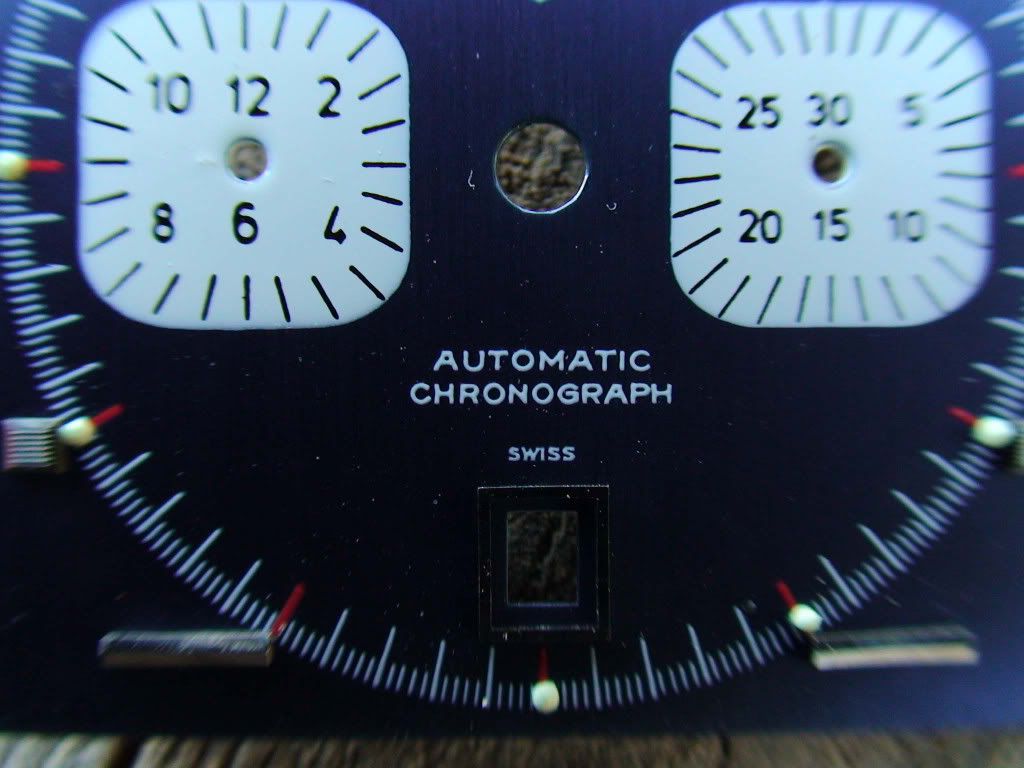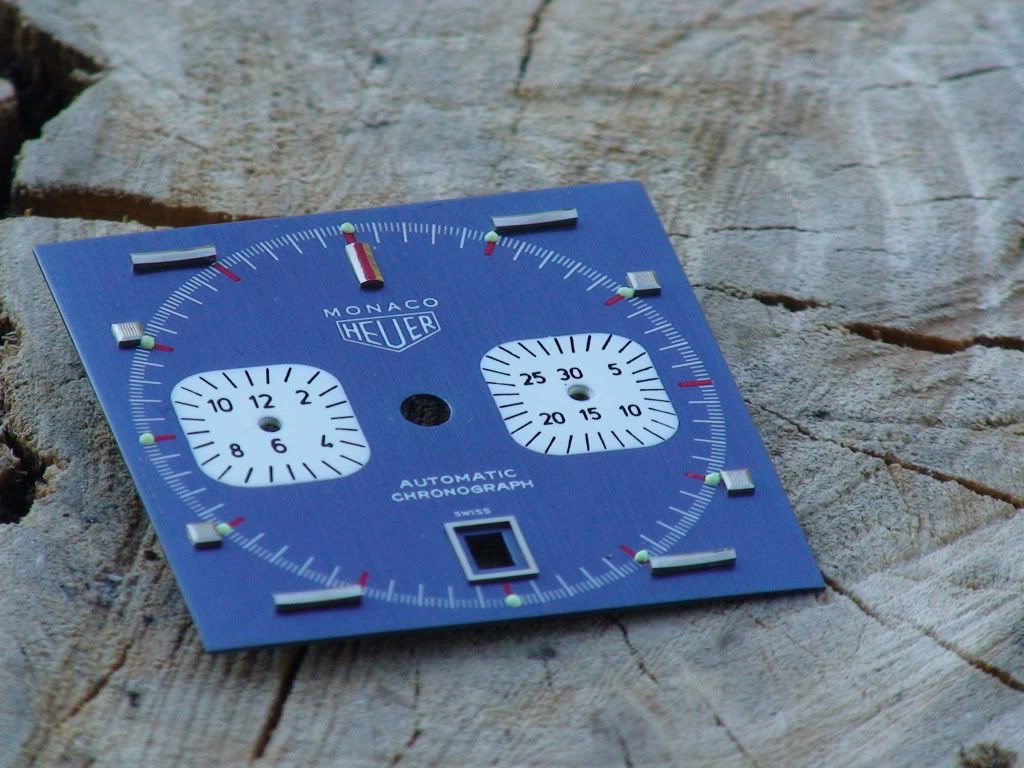 These are the pictures from which is in my eyes a completely original high-quality Heuer Monaco 73633: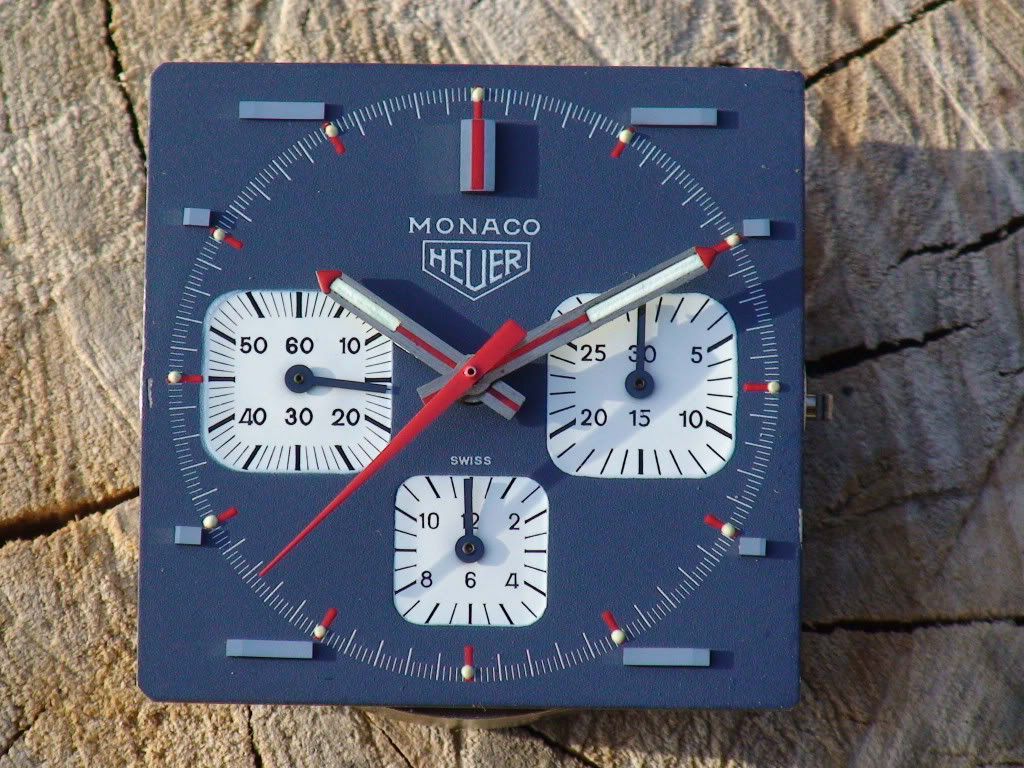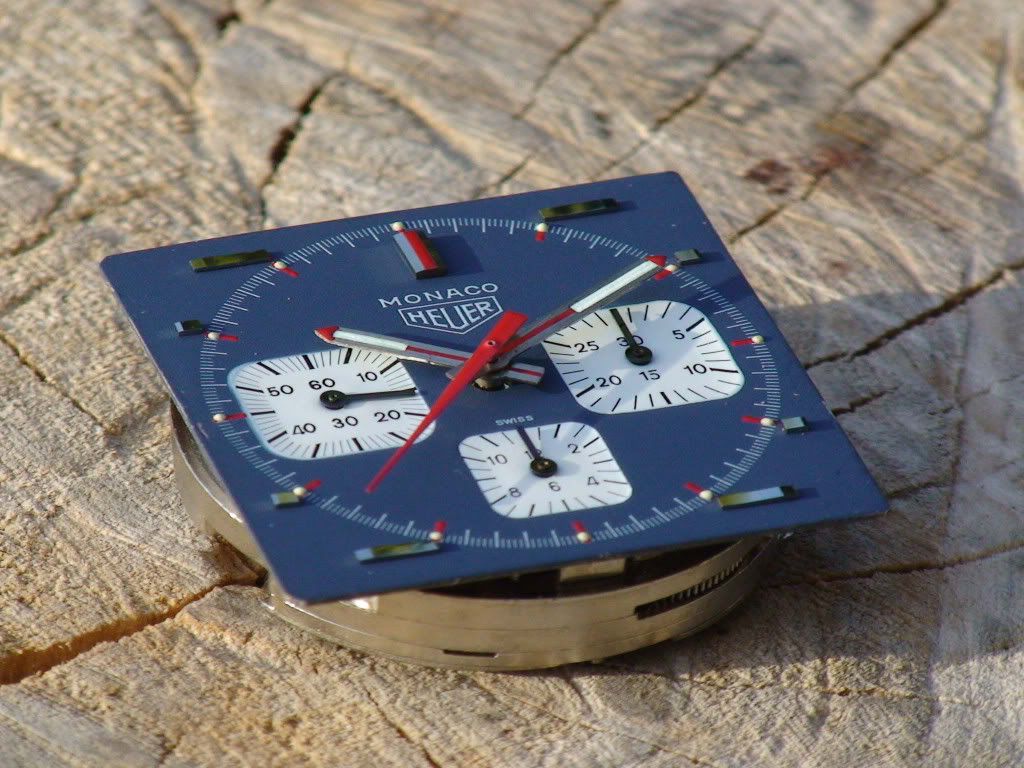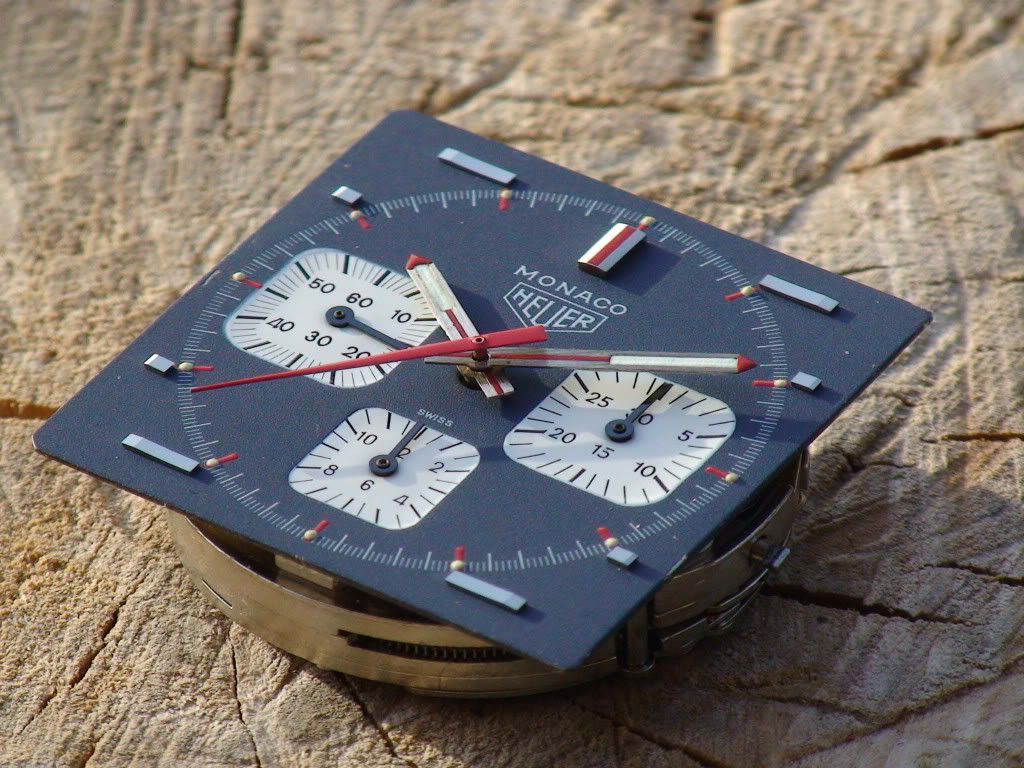 Also this comparison between these 1133b dials is very interesting. Just have a look: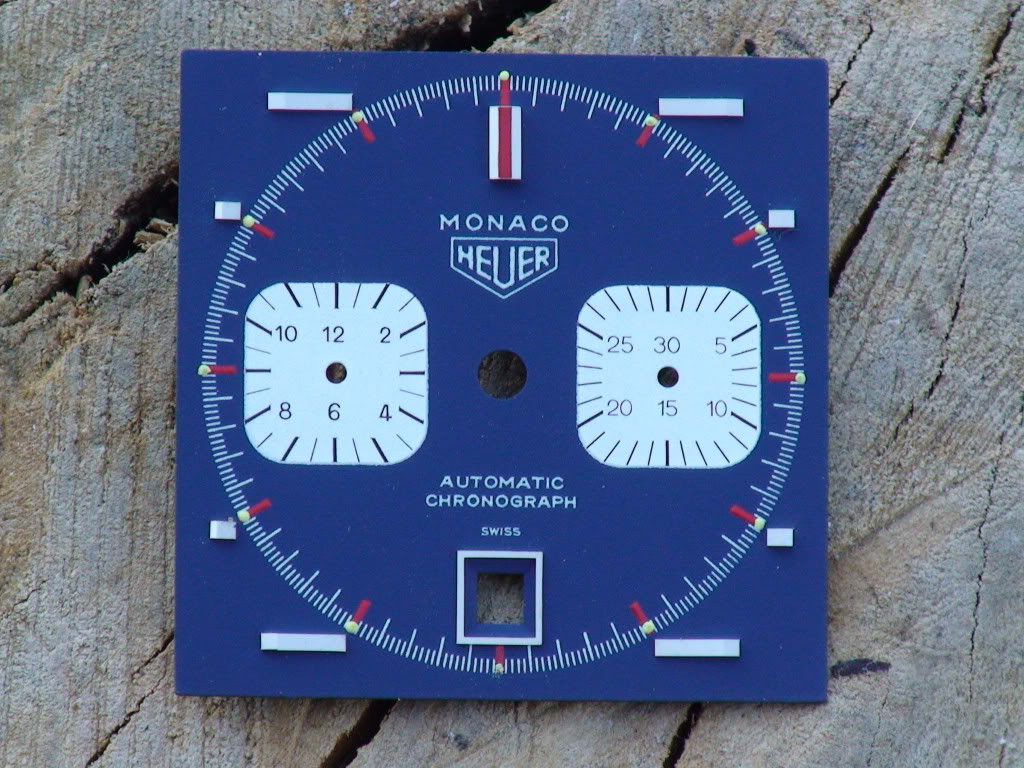 So, I don't know which conclusion I can take to be 100% correct at this moment. Hopefully time will tell and some more reactions on this topic will follow in the near future from some of our fellow-collectors. So Stewart, I hope this makes sence clear that my opinion was not based on this internet article alone but was feeded and supported with my experiences and pictures I had these last couple of years. Ofcourse I also love to stimulate these kinds of debates/discussions. Afetr all, we will all end up with more knowledge about these great Heuer watches!
Cheers,
Abel.