Have a look at this piece, on Perpetuelle.com, suggesting that TAG-Heuer "shot itself in the foot" with the launch of the new movement --
http://blog.perpetuelle.com/index.php/watch-news/tag-heuer-shoots-itself-in-the-foot-on-tag-heuer-caliber-1887-launch/
I have not read it in detail, but it looks like an interesting report.
Jeff
+++++++++++++++++++++++++++++++++++++++++++++
: I am too busy with work to get into the details at the moment,
: but I wanted our readers to be aware of a controversy that has
: been brewing, relating to TAG-Heuer's intorduction of its new
: in-house movement, the Cal. 1887.
:
:
: Sorry to have to rely on other forums, to get you the information,
: but here is a quick recap:
: Here is a posting describing the new movement --
: http://forums.timezone.com/index.php?t=tree&goto=4819658&rid=3020
: Some readers on TimeZone immediately post messages suggesting that
: this movement is nothing more than the Seiko --
:
: http://forums.timezone.com/index.php?t=tree&th=1393019&mid=4819684&rid=3020&rev=&reveal
: =
: And here is the text af a message, from Jean-Christophe, posted on
: WatchUseek --
: Hi, I'm J.C. Babin the CEO of TAG Heuer, and YES, the new Caliber
: 1887 is based on a SII (Seiko Instruments Inc.) TC78 platform
: developped and patented in 1997 (filing) and eversince produced
: in very limited quantities, apparently for Junghans and Seiko
: watches in Japan. The caliber we propose and announced last week
: in London is a major evolution of this platform even though I
: aknowledge that the overall construction may look similar at
: first glance. However, the TAG Heuer movement is much different
: in terms of components, size and eventually performances, not to
: mention it is manufactured (all its key components including
: plate, bridges, assortment, cannon pinion, eccentrics etc....)
: in Switzerland in TAG Heuer workshops of Cornol (Cortech - a
: company owned by TAG Heuer and already producing TAG Heuer and
: Zenith cases) and La Chaux-de-Fonds (where we have also the HQs
: and where we added 30.000 sq feet more last year for movements
: assembling and other manufacturig projects) as well as from
: "best in class" partners such as Nivarox.
: - Dimensions: it's broader (29.3 mm vs 28 mm) and thinner (7.13 mm
: vs 7.27 mm)
: - Therefore the main plate, bridges - especially the chronograph
: bridge - and oscillating mass have been significantly modified
: to allow this evolution
: - Its assortment is a swiss asortment specifically developped by
: Nivarox for TAG Heuer, and allowing to improve further accuracy
: and shocks resistancy
: - New assortment centring of the balance wheel also specifically
: developped by KIF, a leading swiss expert company in balance
: wheels centrings
: - Change and development of a new swiss engineered cannon pinion to
: increase time-setting overtime reliability
: - Redesign of the fixing of ball bearings of the mass to contribute
: reducing the thickness
: - Adjustements to pass the famous "60 TAG Heuer torture
: tests" in terms of accuracy, reliability, thermical and
: physical shocks resistancy, chemical agressions etc....
: We have today already 45 TAG Heuer people working full time on that
: project in Switzerland and work with 21 other suppliers for
: additional parts, most being swiss. Total investment is several
: tenth of mio USD.
: I would therefore qualify that movement as really in-house and
: manufactured by TAG Heuer even though, yes, the original IP has
: been acquired from SII. Please note that the original SII
: Caliber has always been praised by watches experts.
: I hope I answer your questions as well as our fellow Watchuseek
: lovers !!!
: Good evening - JCB
:
: I will be posting more information and photos re this new movement,
: but I wanted our readers to at least be aware of the controversy
: (and the response from Jean-Christophe Babin).
: For anyone who might be asking the question, "So what are the
: Seikos that use this movement?", have a look here at their
: amazing Flightmaster . I've got to think that TAG-Heuer will do
: just fine with its new movement!!
: Bravo, to the home team; well done, Jean-Christophe!!
: Jeff
:
: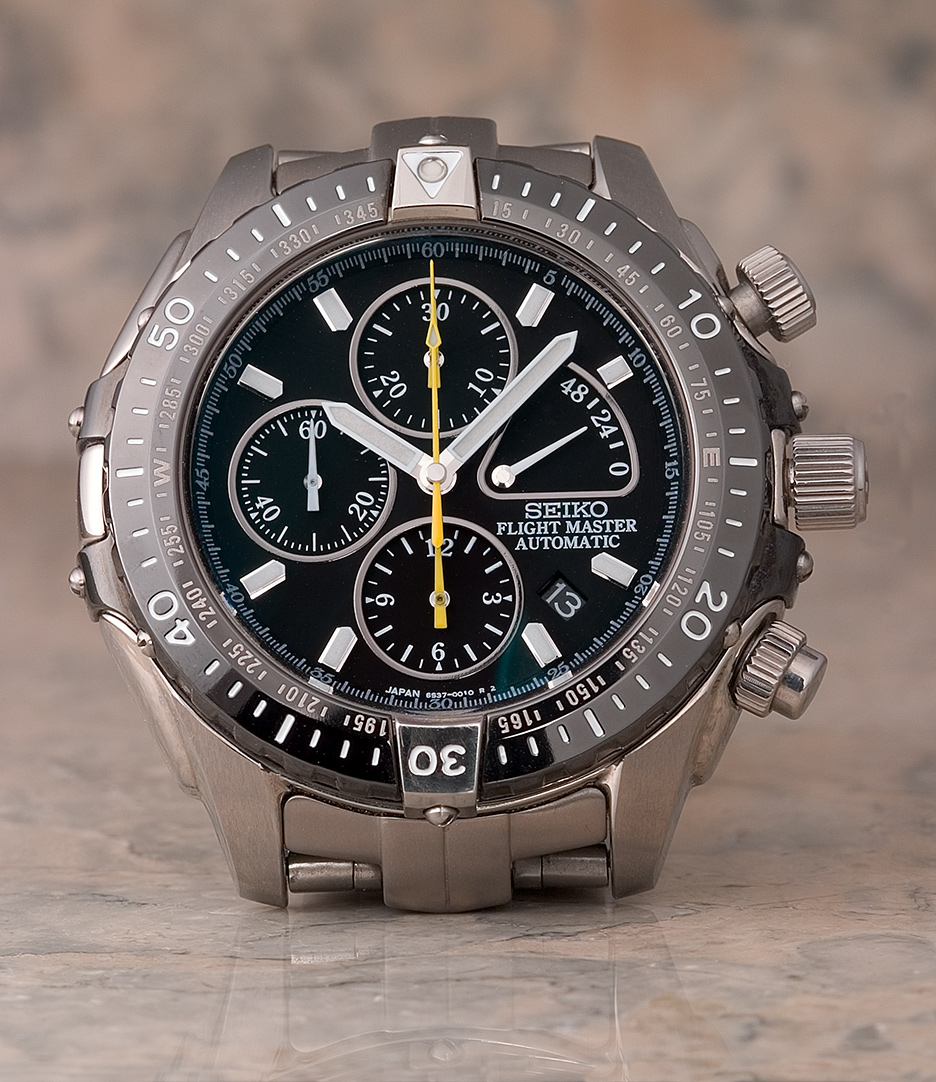 :
: